Here are the documents that every Georgia citizen should know
Georgia Election Codes, Rules, and Regulations
Rules of the State Election Board
Official Code of Georgia Title 21 Elections
Duties of the Secretary of State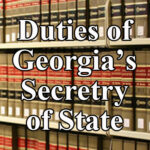 45-13-20. Duties of Secretary of State generally.
The Secretary of State shall have the following duties:
For Reference:
Registration with Secretary of State of trademarks or service marks, § 10-1-440 et seq.
Designation of Secretary of State as commissioner of securities, § 10-5-10.
Service by Secretary of State as ex officio corporation commissioner, § 14-5-20.
Authority of Secretary of State to challenge qualifications of candidates for federal and state office, § 21-2-5.
Powers and duties of Secretary of State relating to elections generally, § 21-2-50 et seq.
Powers and duties of Secretary of State regarding professional fund raisers and solicitors, T. 43, C. 17.
Citations of O.C.G.A. codes violated by Dominion and Election Supervisiors
O.C.G.A. § 21-2-300(a)(2). The statutory provisions mandate voting on "electronic ballot markers" that: (1) use "electronic technology to independently and privately mark a paper ballot at the direction of an elector, interpret ballot selections, communicate such interpretation for elector verification, and print an elector verifiable paper ballot;" and (2) "produce paper ballots which are marked with the elector's choices in a format readable by the elector"
O.C.G.A. § 21-2-2(7.1); O.C.G.A.
21-2-281
O.C.G.A. 21-2-344 (2019 version) as that statute makes the election superintendent THE FINAL AUTHORITY (notwithstanding any other statute and it still does) to determine whether to use the Dominion system or paper ballots
21-2-379.22
O.C.G.A. 21-2-2(7.1) prohibited from having a "computing" function It is logically impossible for a BMD to take the elector's input and translate that data into a graphic image in the nature of a "2D barcode" without a software routine or subroutine capable of making that computational translation into a printable graphic image which is placed on the face of a ballot.
Kemp v. Mitchell County Democrat Executive Committee, 216 Ga. 276, at 283 (1960) which states,
"It has long been the rule in this State that where there is no authority to hold the election, or where statutory requirements pertaining to the holding of an election are not complied with, the election is void, …"
That Honorable Court went on to say, citing precedent, that elections held in violation of mandatory statutes, in total disregard of the statutes, "…it can not be treated as an irregularity, but it must be held and adjudicated to be cause for declaring the election void and illegal."
C.G.A. 21-2-366 (2010)
21-2-366. Authorization for utilization of optical scanning systems
The governing authority of any county or municipality may, at any regular meeting or at a special meeting called for the purpose, by a majority vote authorize and direct the use of optical scanning voting systems for recording and computing the vote at elections held in the county or municipality. If so authorized and directed, the governing authority shall purchase, lease, rent, or otherwise procure optical scanning voting systems conforming to the requirements of this part.
O.C.G.A. 21-2-334 (2010)
21-2-334. Voting by paper ballot when use of voting machine impossible or impracticable
If a method of nomination or election for any candidate or office, or of voting on any question is prescribed by law, in which the use of voting machines is not possible or practicable, or in case, at any primary or election, the number of candidates seeking nomination or nominated for any office renders the use of voting machines for such office at such primary or election impracticable, or if, for any other reason, at any primary or election the use of voting machines wholly or in part is not practicable, the superintendent may arrange to have the voting for such candidates or offices or for such questions conducted by paper ballots. In such cases, paper ballots shall be printed for such candidates, offices, or questions, and the primary or election shall be conducted by the poll officers, and the ballots shall be counted and return thereof made in the manner required by law for such nominations, offices, or questions, insofar as paper ballots are used.